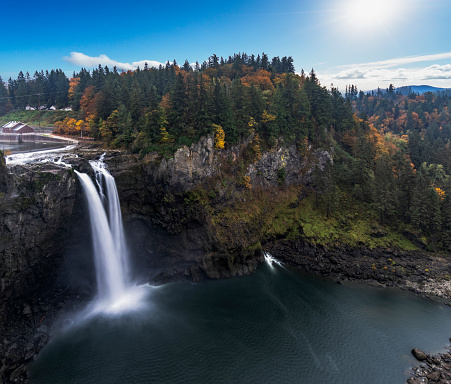 Snoqualmie is famous for the natural wonder of Snoqualmie Falls, a breathtaking waterfall cascading 268 feet over granite cliffs. Also the Northwest Railway Museum and is Home of The Boeing Classic.
Snoqualmie is also known for a high quality of life, an emphasis on public safety, environmental sustainability, and economic growth. These elements come together to serve Snoqualmie's residents, business owners and their employees, and more than two million tourists who visit Snoqualmie each year.
As the fastest growing city in Washington for many years, Snoqualmie has more than 13,000 residents. Census data shows 35 percent of the Snoqualmie population is 18 years of age and under, the highest youth-to-adult ratio in King County. To that end, the city is highly supportive of school district initiatives, new and expanded parks facilities, youth programs, and local human services organizations.
With 41 parks and more than 30 miles of trails, Snoqualmie offers open spaces, athletic fields. Sports courts, tennis courts, play equipment for all ages, picnic shelters, barbecues, and event facilities. Among its notable parks are Centennial Fields, Snoqualmie Community Park, Jeanne Hansen Community Park, and the Three Forks Off-Leash Dog Park.
*Sourced from the Snoqualmie Valley Chamber of Commerce*
School District:
The homes in Snoqualmie feed into the
Snoqualmie Valley School District / District Homepage (svsd410.org)
Things to do in Snoqualmie:
Take a visit to Snoqualmie Falls, take a scenic hike to Mailbox Peak, or learn how to race at Dirtfish Rally School!
Top 15 Activities in Snoqualmie (TripAdvisor)
Fun Fact:
Many of the exterior shots for David Lynch's television series Twin Peaks were filmed in Snoqualmie.
More Info:
For more in depth information on the schools, neighborhoods, and amenities within Snoqualmie don't hesitate to reach out to a team member!