We know Real Estate. We've been doing this for over 50 years and over 1,000 homes sold.
At the Cory Brandt Group, we advocate in your best interest and treat each transaction as if it were our own. We take pride in not only helping clients achieve their real estate goals but educating them and making the process a stress-free experience. 82.5% of our business are repeated and referred clients, which highlights that our client-focused approach is appreciated. We appreciate how their loyalty to us consistently puts us in the top 1% of brokers nationwide.
Our experience enables us to provide both buyers and sellers tailored solutions for smooth transactions and a stress-free experience.
Feel free to reach out to us for a free consultation to talk about your real estate goals and how we can help you achieve them.
Hire The Right Team: Important things to consider when choosing an agent to help sell your home
EXPERIENCE – The more you do something, the better you are at it. At the Cory Brandt Group, our agents have nearly 50 years of combined experience. We know the contracts, we have seen nearly every scenario come up, and know how to competently handle any hurdles that may arise during your sale. This helps minimize your stress and ensure that your sale closes successfully.
MARKETING – The average agent sells 4 homes per year; we sell 60+ homes a year. This means we have the marketing budget to make sure your home stands out among other listings. We hire only the best photographers, use professional printing companies to produce beautiful marketing pieces, and are able to advertise your listing online to make sure we create the largest funnel of buyers for you home.
SUPPORTIVE TEAM – Unlike an independent agent, our agents have a whole team behind them so they can concentrate on what matters most. Our client care coordinator helps set up and organize contractors and make the process of preparing your home to list a smooth and easy process.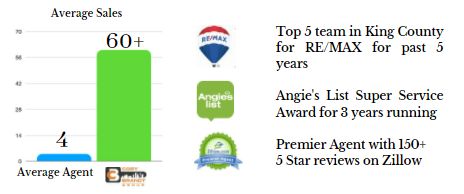 Contact us
Phone: (425) 800-4663 (HOME)
Email: info(at)corybrandtgroup(dotted)com