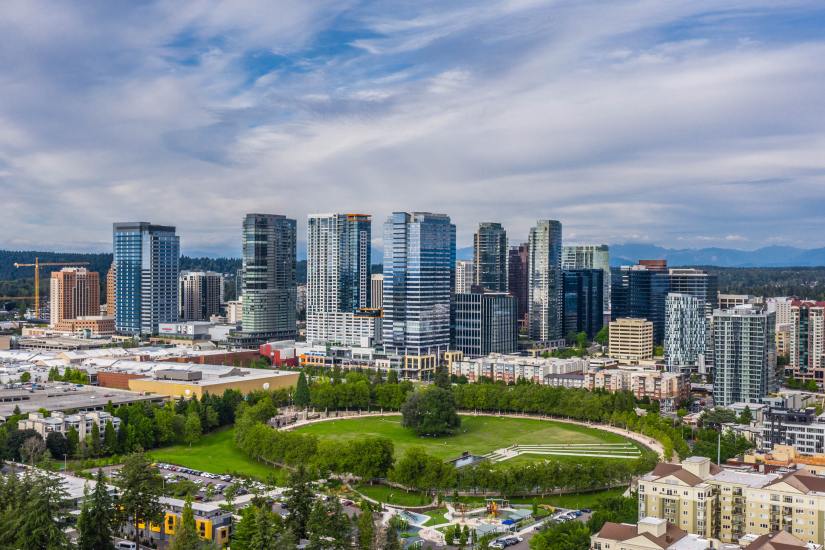 Bellevue is the fifth largest city in Washington, with an estimated population of 145,300 (2019). Bellevue is the high-tech and retail center of the Eastside, with more than 150,000 jobs and a downtown skyline of gleaming high-rises.
With beautiful parks, top schools and a vibrant economy, Bellevue is routinely ranked among the best mid-sized cities in the country.
While business booms downtown, much of Bellevue retains a small-town feel, with thriving, woodsy neighborhoods and a vast network of trails. With nearly 100 parks, Bellevue is known as "a city in a park." The city's crime rates are consistently low.
Retail options abound in Bellevue, while artists from around the country enter striking new works in the Bellwether arts festival. Bellevue's agrarian traditions are celebrated in the spring and fall at popular fairs at the Kelsey Creek Farm Park. More than 300,000 people visit the downtown area the last weekend in July each year for arts and crafts fairs.
The city sits between Lake Washington and Lake Sammamish and is a short drive from the Cascade Mountains. People can kayak within sight of downtown in the Mercer Slough Nature Park, a 320-acre wetland preserve.
The population is growing and becoming more diverse. In 2015, according to the U.S. Census, Bellevue's population became evenly split between non-Hispanic whites and people of color, making the city one of the most diverse in Washington.
*Sourced from the City of Bellevue Website*
School District:
The majority of the homes in Bellevue are served by the
Bellevue School District
which is one of the top rated school districts in Washington. The remainder is served by a combination of the Issaquah, Lake Washington, and Renton School Districts.
Things to do in Bellevue:
Take a walk through the Bellevue Botanical Gardens, take a lunch break at Downtown Park, or satisfy all your retail shopping desires at Bellevue Square!
Top 15 Activities in Bellevue (TripAdvisor)
Fun Fact:
The company, Amazon, was founded in Bellevue by Jeff Bezos in the garage of a home he was renting.
More Info:
For more in depth information on the schools, neighborhoods, and amenities within Bellevue don't hesitate to reach out to a team member!