Real Estate Market Update:
King County – January 2021
Who knew 2020 would be so crazy and that we'd still have a red hot Real Estate market… For 2021, we expect to see continued low inventory with rising prices this spring, slowing in May. Contact us today if you are considering taking advantage of this amazing Seller's market.
As for buyers, rates remain at an all-time low and we are still finding some good deals out there if you aren't afraid to get a hammer and get a little dirty. Because of low inventory, the market is super competitive – which is why we pride ourselves in knowing the contracts, so we can help put together strong competitive offers for our buyers.
Our Team Is Growing
Welcome, Brenda Poskitt!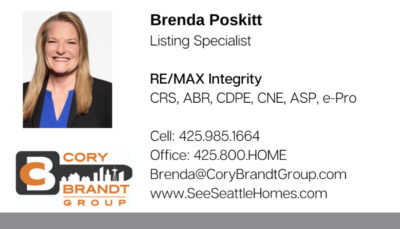 We are growing our team in 2021 and would like to introduce our new Listing Specialist, Brenda Poskitt. Brenda is an area native with 19 years as a Realtor. We've worked with Brenda for 14 of those years and are super excited she chose to join our team; she is a valuable addition.